The Deepings Lions have been fund raising for 30 years in and around The Deepings and the surrounding villages and have raised over £250,000 for not only local good causes but international campaigns as well. We meet on the 2nd and 4th Wednesday of the month in The White Horse on Church St in Market Deeping.
Who are the Lions and what do we do?
The Deepings Lions are part of an international organisation of about 1.3 million people operating in over 100 countries. We are ordinary people from all walks of life who give a little time and effort for the good of the community and have fun doing it .
---
Latest News
Easter Egg raffles
Look out soon for our 1 kilo chocolate eggs in pubs and clubs around the Deepings. They will be raffled to raise funds for St Barnabas Hospice and Lions Brain Tumour Research. Entries cost £1.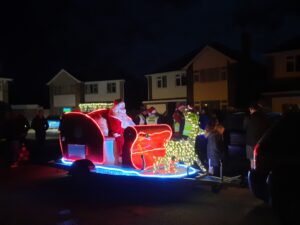 Santa sleigh collections
The Lions and our colleagues in Rotary would like to thank the people of The Deepings, Peakirk, Langtoft, Baston and Tallington for your generous support for our Christmas collections. The total given was a magnificent £9,500. The money will be used to help local people in need, either directly or by supporting charities that help them, and to respond to disasters that might happen anywhere.
Christmas Tree Festival
The Lions Christmas Tree, decorated by Carol Sterland and Barbara Drinkall, was on display in Market Deeping Town Hall as part of the Town Council's Christmas Tree Festival.
Grant to Deeping St Nicholas Primary School
Children at Deeping St Nicholas Primary School, together with Lion President Lynne Roberts and Lion Nicki Waldie, making a Lion's roar when presented with our cheque for £250. The money is to help the school support learning by giving children a healthy breakfast.
Follow Us on Social Media